NO APPOINTMENT
NEEDED
Fast, convenient, expert service – all done with your busy schedule in mind. Stop in during Express Service hours and we'll take care of your Nissan vehicle – it's our promise to you.
FAST, CONVENIENT, EXPERT SERVICE ON YOUR SCHEDULE
We know your time is important. Nissan Express Service takes the hassle out of vehicle maintenance by providing service at your convenience. Stop in for any of the services below when you have time and we'll take care of you.
Amenities
We have Free Wifi, Complimentary Water and Coffee, TV, Vending Machines, and more!
Oil & Filter Change
Air Filter Replacement
In-Cabin Microfilter Replacement
Tire Rotation & Balance
Battery Diagnostic Check & Replacement
Brake Services
Shocks & Struts
New Tires
New Wipers
Factory Scheduled Maintenance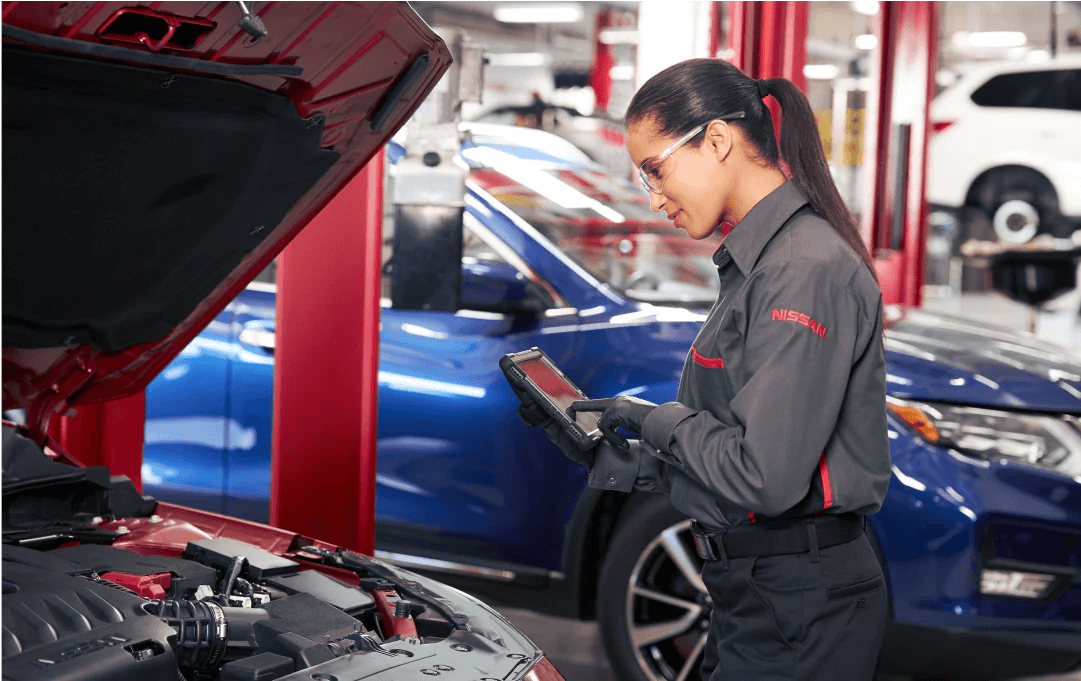 COMPLIMENTARY MULTI-POINT INSPECTION
Every Nissan Express Service includes a complimentary multi-point inspection. From inspecting the thickness of your brake pads to measuring the tread depth of your tires, our multi-point inspections provide unparalleled visibility into your vehicle. Upon completion, our Service Advisors will help provide you with an easy-to-read report to let you know if anything needs attention and work with you to ensure your Nissan vehicle is operating at the very highest levels of performance.
Contact Us
MULTI-POINT INSPECTIONS INCLUDE:
BRAKE INSPECTION
Measure Pad Thickness
Check Rotor Condition
Brake Fluid Check
TIRE INSPECTION
Measure Tread Depth
Check / Adjust Pressure
OIL CHECK
Engine Oil Check
Fluid Leaks (Under The Vehicle)
BATTERIES INSPECTION
Terminals / Cables / Mounting
Capacity Test
EXTERIOR CHECK
Headlights
Turn Signals
High Beams
Fog Lights
Wiper Blades (Front & Rear)
Tail Lights
Brake Lights
Reverse Lights
Exterior Lamps
INTERIOR CHECK
Horn Operation
In-Cabin Air Filter (Microfilter)
UNDER THE HOOD
Coolant
Power Steering Fluid
Brake Fluid
Windshield Washer Fluid
Automatic Transmission Fluid
Cooling System Hoses
Heater/AC Hoses & Connections
Radiator Core And Cap
Engine Air Filter
Drive Belts
UNDER VEHICLE INSPECTION
Rear Shocks / Suspension
Rear Subframe
Differential (Check For Leaks And Overall Condition)
Drive Shaft
Muffler / Exhaust / Mountings
Front Shocks / Suspension
CV Boots
Tie Rods
Bushings
Axles – Visual Inspection For Leaks
Fluid Leaks (Oil / Transmission / Coolant)
Meet Our Service Team
Our Service Advisors are ready to provide maintenance advice and answer any parts and accessory questions you may have for your vehicle. Don't have time to drop in for express service? Schedule your service today and get back on the road with confidence.
Schedule Service >